We are the main instrument of wildlife, fish and forest management in the Gwich'in Settlement Area (GSA). We act in the public interest, representing all the parties to the Gwich'in Comprehensive Land Claim Agreement (GCLCA) – the Gwich'in, the people of the Northwest Territories and all Canadians.
Wildlife Studies Fund | Call for Research Proposals
(funding from April 1, 2022 to March 31, 2023)
Submit an application by January 28, 2022 (11:59pm).
Applicants should plan on presenting their proposed projects to the Board during the February 16-18, 2022 Board meeting in Aklavik
(an in-person presentation is strongly encouraged).
Visit our Wildlife Studies Fund page for more information.
Open Position | Board Chairperson
GRRB is seeking a Board Chairperson. Submit an Expression of Interest by December 8, 2021 (11:59pm).
Welcome our new Executive Director
Learn more about Wanda McDonald and our other great employees on the Staff page.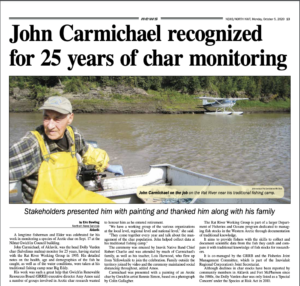 News Brief - News/North NWT - October 5, 2020
CBC News North - October 2, 2020