The GRRB consists of six members, six alternate members and a chairperson. Each Board member is nominated to serve a term of not more than five years and members can be reappointed. Persons serve on the Board through a nomination and appointment process set out by terms of the Gwich'in Comprehensive Land Claim Agreement (GCLCA 12.8.3):
Nominations
The Gwich'in Tribal Council acts on behalf of the Gwich'in to nominate persons to serve as Board members. Often the GTC nominations to the Board are persons of Gwich'in heritage.

Nominations on behalf of government are made by the Government of the Northwest Territories and by the Government of Canada.

The Board members themselves nominate their Chairperson and must select someone who is a resident of the Gwich'in Settlement Area.

Appointments
All nominations are sent to the Governor in Council and to the Executive Council of the Government of the Northwest Territories, who then jointly make the appointments of GRRB members as Governor in Council appointments. The GRRB describes itself as a co-management body because there is intentionally a balance of appointments from Gwich'in and government nominees: three members and three alternate members of the Board are appointed from nominations made by the Gwich'in and three members and three alternate members are appointed from nominations made by government. 

Decision Making
As a body and as individual Board members, the GRRB acts in the public interest independent of member nominating agency or department. Members are not considered to have a conflict of interest simply because they may be public servants or employees of Gwich'in organizations. Having a mix of member appointments from Gwich'in and government nominations provides the diversity and balance needed to allow the Board to make informed decisions.
GRRB CHAIRPERSON

Name

Expiry Date

Nominating Party

Vacant

 

GRRB

FULL MEMBER APPOINTMENTS

Name

Expiry Date

Nominating Party

April 12, 2022

GTC

February 6, 2023

GTC

William Koe – Acting Chairperson

August 27, 2024

GTC

August 27, 2024

Canada

August 27, 2024

Canada

Vacant

 

GNWT

ALTERNATE MEMBER APPOINTMENTS

Name

Expiry Date

Nominating Party

February 6, 2023

GTC

June 19, 2024

GTC

Vacant

 

GTC

August 27, 2024

Canada

August 27, 2024

Canada

Vacant

 

GNWT
GRRB Chairperson – Vacant
*GRRB is currently seeking expressions of interest for this appointment*
GTC Full Board Member –
 Margaret Begg
Margaret Begg was born and raised in Fort McPherson, NT. Her parents are the late Bella and John A. Tetlichi. She grew up at her parent's bush camp at Road River, 50 miles up the Peel River from Fort McPherson. Margaret has lived in Yellowknife since September of 1971, when she attended Sir John Franklin High School.  While attending high school, she lived in Akaitcho Hall.  Margaret retired in August 2009 after being employed at the Workers' Safety & Compensation Commission since 1978.   During her 30-plus years' employment with the WSCC, Margaret would use her annual leave to take her daughter Nadira and son Rosh to Road River.  Margaret has three grandchildren. She is concerned with climate change and the environment that we are leaving future generations.
GTC Full Board Member – Sam Bullock
Sam was born at Dachan Choo Gehnjik (Tree River) at his diidu (Julienne Jerome Andres)'s summer fish camp. His lineage is Gwichya Gwich'in. As a child, his exposure to such elder leaders as Hyacinthe Andre molded his passion and deep-rooted respect for traditions and responsible hunting and fishing practices. During high school in Inuvik, he excelled in competitive cross-country skiing. With a diploma in Natural Resource Management, Sam worked for the GNWT Department of Renewable Resources in Yellowknife.
In 1992, Sam and his wife Renata created Bullocks' Bistro, a 35-seat fish 'n' chip eatery in Yellowknife's Oldtown. The restaurant was sold in April 2016. As a small business entrepreneur and owner, Sam understands day-to-day challenges of Northern business and current wildlife issues and is keenly interested in legal aspects of Northern commercial fishing. It is a duty and an honour for Sam to serve as a Board member. He looks forward to assisting in the many urgent issues before the Gwich'in nation.
GTC Full Board Member and Acting Chairperson – William Koe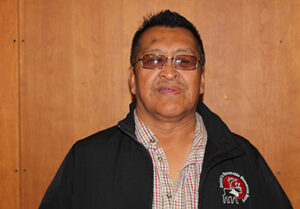 William was born and raised in Fort McPherson. He completed his schooling there in the community and went on to grade 10 in Inuvik, residing at Stringer Hall. He completed grades 11 & 12 in Yellowknife at Sir John Franklin High School, graduating with a class of 98 students when the NWT included Nunavut, After high school, the oil boom started in the Beaufort. William worked on the oil rig from 1978-1986 until the boom was over. In 1990, he decided to go back to school and attended the First Nations Management Studies at Aurora College in Yellowknife, completing the first year. He came home and joined the Tetlit Gwich'in Council, pursuing a Land Claim Agreement for the Gwich'in people in 1991.
William was elected to the Chief and Council working in various departments for the Tetlit Gwich'in Council. At the time, all Board members were put to work in different departments. In 1995, he decided to take on another challenge. William put his name forward to run for Chief, was successful and served his people from 1996 to 1999. Shortly after, he ran for Mayor and served for two years up until 2001. In 2010, he once again ran for Chief and successfully served two terms, completing his tenure in 2016. In September 2018, William accepted a position with the Government of the NWT as a Community Wellness Worker. He is still working in the position.
William is also the Mayor of Fort McPherson.
Canada Full Board Member – Doug Doan
Doug was born in Churchill, Manitoba and grew up on military bases both in Canada and abroad. He moved to the Northwest Territories in 1987 and has since resided in Behchoko, Inuvik and Yellowknife. During his time in the north, Doug has worked for both the Federal and territorial governments and has been involved in economic development and resource management.
Now retired from government, Doug and his wife live in Yellowknife.
Canada Full Board Member – Burt Hunt
Burt Hunt, recently retired to Olds, Alberta, was formerly the Regional Director of Fisheries Management for DFO's Central and Arctic Region. He was, prior to that, DFO's Director in each of its three northern Areas, having spent five years in each of Iqaluit, Whitehorse and Yellowknife. Burt also spent part of his working life in the private sector, notably as Petro-Canada's manager of Environment, Safety and Social Responsibility.
Burt now volunteers as chair of his town's Municipal Planning Commission and as president of a group that provides horse riding opportunities for handicapped children and adults. He retains a keen interest in northern issues and in environmental issues particularly and is looking very forward to renewing acquaintances in the GSA and contributing to the excellent work of the Gwich'in Renewable Resources Board.
GNWT Full Board Member – Vacant
*appointment for this position is currently underway*
GTC Alternate Board Member – Charlie Snowshoe
We are happy to once again have Charlie as part of the Board, after serving as a GRRB member from 2011-2016. He was also a member of the Gwich'in Land and Water Board from 2011-2016 and, prior to that, the Vice chair of the Gwich'in Land Use Planning Board. From 1997 to 2008, Charlie was a member of the Mackenzie Valley Environmental Impact Review Board.
A hunter and trapper in the Fort McPherson area, Charlie is very active in his community. He has held many other positions including: Representative on the Tetlit Gwich'in Renewable Resources Council; Vice chair of the Mackenzie Beaufort Delta Beaufort Sea Land Use Planning Commission; Band Counselor; Member of the Peel River Alcohol Society; Mayor of the hamlet of Fort McPherson; Settlement Council of Fort McPherson Counselor and Chairperson; Vice-President, Northern Region, for the Dene Nation; Board member of the Western Arctic Visitors Association (WAVA). Charlie was also involved in the negotiations on the Porcupine Caribou Management Agreement, the Yukon overlap and the Dene Metis and Gwich'in land claims.
GTC Alternate Board Member – Roger Fraser
Roger Fraser was born in Fort Smith and grew up in Yellowknife, where he raised six children and has two grandchildren. His mother is the late Mavis McLeod and his father is the late Peter Colin Fraser.  His grandparents on his mother's side were Fred McLeod and Margaret Firth. Great grandparents were John Firth and Margaret Stewart.
After high school, Roger spent the first 20 years working for Back Bay Welding in Yellowknife. Then he decided to further his education and obtained a diploma in Natural Resources from Arctic College. He was hired by the Federal Government as a Fishery Officer and a Forestry and Wildlife Officer for the Territorial government for 27 1/2 years (the last seven and a half years in management).  Roger retired two years ago and started a small business. He has also volunteered for many years with different groups, including: Chair of the North Slave Housing Board, sits on the Aboriginal Advisory Board to the RCMP and Chair for the Yellowknife Gwich'in.
Roger looks forward to serving on the Gwich'in Renewable Resources Board, using his knowledge from his many years as a Forestry/Wildlife Officer and a traditional hunter/trapper to help preserve the renewable resources for many generations to come.
GTC Alternate Board Member – Vacant
Canada Alternate Board Member – Myra Robertson
Myra was born and raised in Winnipeg, Manitoba. Bird-watching with her father at a young age started a life-long passion for birds and other wildlife. She completed a B.Sc. in ecology at the University of Manitoba and a M.Sc. in bird ecology at the University of Calgary. In 1995, she moved north to Yellowknife. Since 1996, she has worked for Canadian Wildlife Service (Environment & Climate Change Canada) in the Yellowknife office on various issues including waterfowl management, environmental assessment and Species at Risk. She is currently the Head of the Wildlife Assessment Section for the Northern Region, Canadian Wildlife Service. She enjoys spending time on the land, especially at her cabin as well as boating and fishing with her family.
Term expiry: June 27, 2024
Canada Alternate Board Member – Ron Allen
Ron currently resides in Yellowknife, having previously lived in a variety of arctic communities (including Tuktoyaktuk and Inuvik) since the 1970s. He started his career as a Wildlife Research Biologist in Ontario and moved to the arctic as a Renewable Resources Officer for five years with the Government of the Northwest Territories. Following that, Ron worked in the arctic for the Department of Fisheries and Oceans in a variety of roles (Fishery Officer, Area Manager, Habitat Coordinator, Area Director and Director, Regional Staffing Team). He retired from DFO in 2008.
Since then, Ron has been working in the private sector as a consultant/contractor doing program reviews, staffing, occasional biological field work for GNWT, teaching Canadian Firearms Safety Courses, seasonal equipment operation and maintenance for a lodge, etc. His hobbies tend to be hunting and fishing related and he likes to be "on the land" frequently.
GNWT Alternate Board Member – Vacant
*Appointment for this position is currently underway*
GNWT Former Full Board Member – Elizabeth Hansen
The Gwich'in Renewable Resources Board regrets the passing of one of our most valuable Board Members on August 29, 2011.
Liz was a Gwich'in participant and a retired teacher of 33 years. She had been a Board Member since May 2001. She also dedicated her time to various traditional knowledge projects, including the Khaii Luk (Travaillant Lake traditional fishing knowledge) Study.